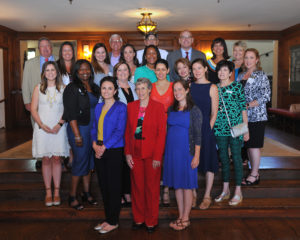 Trinity Health Foundation of East Tennessee awarded a 2018 Phase I grant  to Vet to Vet Tennessee (VTVT) for their initiative "Veteran/First Responder QPR Suicide Prevention on June 6, 2018 at the Cherokee Country Club.
Trinity Health Foundation of East Tennessee extends the healing ministry of Jesus by improving the physical, emotional and spiritual health of our community.  Each grantee is assigned a Trinity Health Foundation Liaison; VTVT was assigned – The Very Reverend John Ross and Joe Johnson.
Rio Revolution Church,  a VMFC in Maryville Tennessee, has agreed to host the training on August 20, 2018.   Two (2) members of Rio have already enrolled in QPR Suicide Prevention Instructor Course including Pastor Devan Lipsey and their Lay Leader.  [read more="Click here to Read More" less="Read Less"] 
VTVT is offering 20 $500.00 QPR Suicide Prevention Instructor training scholarship thanks to the generosity of Trinity, Knox County Mayor Tim Burchett and VTVT members.  The scholarships are offered to all active VMFCs .
The Phase I Final Report and Phase II Proposal is due on September 5, 2018.  The Phase II grant is worth $50,000.00 and due in September.  If approved, VTVT to train 100 VMFCs, faith-based communities and non-VA mental health care provider members.
Phase 2 grant will focus on training youth leaders because suicide is the 2nd leading cause of death of ages 15-24.
If you would like to learn more about suicide prevention please leave us a message below.
Pray and work…for God and Country.
 [/read]