January 23, 2019 Transformation Haven Ministries Founder Selena Rider and six current residence attended Vet To Vet Tennessee's (VTVT) officer meeting to present the Transformation Haven Ministries' (THM) mission.    "A safe haven for women who battle addictions" in Monroe County Tennessee.  The THM mission is to maintain a 12-month discipleship program where women will live in a safe, stable home, at no cost to them, and receive the love and support they need to "Transform" their lives into the image of Christ…without addictions…and become productive members of society.
VTVT agreed to support and partner with THM because they provide a service to women in Monroe County that is limited and much needed.  Selena has agreed to support women justice involved veterans and to provide support for the upcoming 2019 Freddie J. Owens Women Veterans Summit.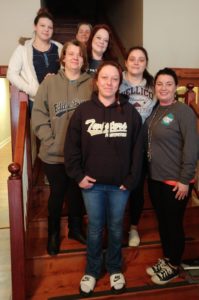 VTVT officers not only approved the partnership but also approved a $750.00 donation. The officers and members also donated $250.00 for a total one-day donation of $1,000.00.
Although no woman veterans are in their current program, this collaboration provide another resource for our women Veterans in the 10th Judicial District of Tennessee. The one (1) program is free to the women veterans.
If you are interested in learning more about THM please contact Selena at 423-545-9793.